Hi I'm Luke, I'm 16. I am studying for my A Levels. I was diagnosed with ulcerative colitis (UC) in February 2016. I had been suffering symptoms for the previous six months. Initially I was being given antibiotics as a quick fix. I have never been one to complain, honestly, I just assumed it would go away soon.
The symptoms finally got dealt with when I lost 9 kg over the course of the flare-up. I was put on steroids, and Azathioprine. This settled the symptoms down, but I suffered the side effects, such as a moon face and hot flushes. When I went back to school, to be honest, I didn't want to tell anyone I was on steroids, although I was happy to tell them I had UC.
A year later, I started to have kidney problems which could have been caused by medication or an infection. 
It was then diagnosed by a junior doctor, as pneumonia and that really knocked me for six.
In June last year during my GCSEs, I started to suffer my first flare-up since I was diagnosed. I was put on steroids which weren't working but I persisted over the summer. In a strange way, I was fortunate because the steroids were going straight through me, I didn't have to worry about my face being a beach ball. We went to Jersey for a few days and that was when things got really bad. When I got back, I was really ill, going to the toilet 28 times a day, feeling tired, drained and in pain. I was admitted to hospital. Unfortunately, after 12 days in hospital, I was discharged even though I was still going to the loo at least ten times a day.
At the end of September, I had an endoscopy and to everyone's surprise, I was re-diagnosed with Crohn's.
I was then put on a liquid diet for two weeks which made no difference. Fortunately, I was started on Infliximab, which was like a flip switch. I have now been on that for three months and touch wood, it has worked a treat.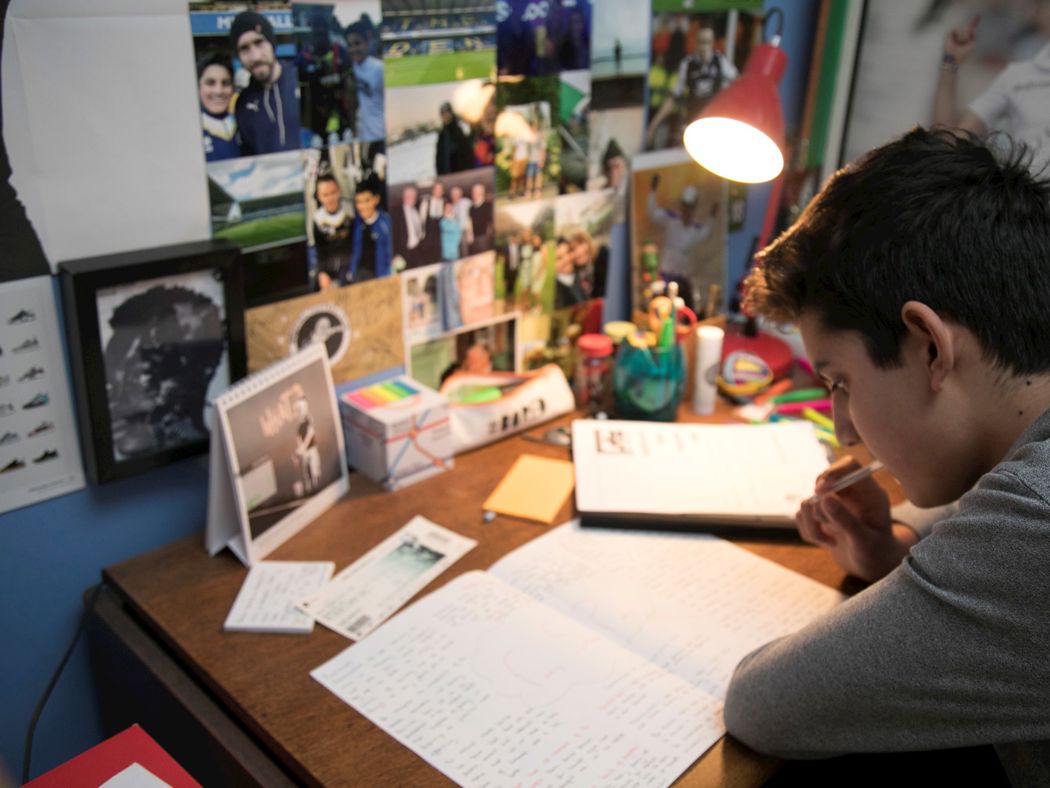 I have signed up with some mates, for the FA Peoples cup, this is going to be a really big deal for me to play competitive football again! My school had been incredibly supportive, but when I had my flare up during the GCSEs, my grades were not good enough for me to return. I am now at a sixth form college, which has worked so well for me. I missed the first half term of the courses as I was so unwell but I am catching up with the support of my teachers.
Through it all, the support of my family and friends has been so important. I am a massive Millwall fan. I have a season ticket and am a ball boy. I was really lucky, when I was ill, as the guy who organises it, got a get well soon card signed by all the players and a pair of signed shorts which definitely helped me keep going.
How am I supposed to remember what they say in an appointment?! As my mum will tell you, my favourite line after a consultation is, 'so what did they say?'. Also, if I'm being dead honest I can't think of anything worse than staying on an adult ward by myself! I know CICRA have been working hard to support this process [of transition to adult care]. There are some tough times, but keeping your mind on all the things you want to do when you feel better, really do help to keep you going.
Photo credit: Vicki Sharp Photography
help children like Luke by donating now
Your support means we can do more research to understand the causes of IBD, and we can provide information and support to more families with a child affected by inflammatory bowel disease like Crohn's, colitis, unclassified and very early onset IBD.
single donation
share your story
Telling your story can be really helpful for others, and give useful insights to everyone about what living with inflammatory bowel disease (IBD) is really like for children and young people, and their families.
add your voice