UK and European codes of conduct are in place to guide patient organisations relationships with the pharmaceutical industry. Our partnerships with pharmaceutical companies allow us to deliver vital work supporting children and young people affected by inflammatory bowel disease (IBD). Please contact us if you would like more information about becoming a corporate supporter of CICRA.
Those industry companies that provide support to CICRA are shown below together with the type of support provided:
Calendar Year 2021
We are pleased to acknowledge a Corporate Sponsor for 2021 is Fresenius Kabi: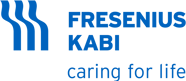 Fresenius Kabi is a global healthcare company that specializes in lifesaving medicines including biosimilars and technologies for infusion, transfusion and clinical nutrition. In line with their philosophy of "caring for life", Fresenius Kabi has entered into the biosimilars area, as a part of their passion and commitment to unlocking access to lifesaving medicines for more patients.
Calendar Year 2019
| | | |
| --- | --- | --- |
| Ferring Pharmaceuticals | Support for attending conferences for IBD doctors and nurses | £500 |
| AMGEN | Funding for information videos for teenagers | £15000 |
Calendar Year 2018
| | | |
| --- | --- | --- |
| AbbVie UK | Funding for symptom impact tracker | £7500 |
| Dr Falk Pharma | Support for CICRA IBD Information Days |  £1050 |
| AMGEN | Funding for information for 11-14 year olds | £5000 |
Calendar Year 2017
| | | |
| --- | --- | --- |
| AbbVie UK | Funding for support and information | £10000 |
| Dr Falk Pharma | Support for CICRA IBD Information Days |  £1050 |
Calendar Year 2016
| | | |
| --- | --- | --- |
| Dr Falk Pharma | Support for 4 x CICRA IBD Information Days | £1200 |
| Vifor Pharma | Grant re CICRA representation in Anaemia Manifesto Group | £300 |
Calendar Year 2015
| | | |
| --- | --- | --- |
| AbbVie UK | Unrestricted Grant paid to CICRA | £5000 |
| Dr Falk Pharma | Support for 4 x CICRA IBD Information Days | £1000 |
| Hoffmann La Roche | Participation in EGAN – Roche Genetics related workshop 3-4 September in St Louis, France and the reimbursement of £219 of a CICRA delegates travel cost |   |
Calendar Year 2014
| | | |
| --- | --- | --- |
| AbbVie UK |  Unrestricted Grant paid to CICRA | £5000 |
| AbbVie UK | Grant received for: Involvement in AbbVie Winter Conference – Insights | £2000 |
Calendar Year 2013
| | | |
| --- | --- | --- |
| AbbVie UK | Unrestricted Grant paid to CICRA. In addition to the Unrestricted Grant: Economy Travel, Hotel & Registration Costs relating to CICRA representative's attendance at the IMID Congress in Vienna Q3 2013. Registration costs of two Abbvie UK Training Days in Maidenhead and the Q4 Abbvie UK Patients Forum 2013 held in London | £5000 |
| Falk | Participation of 2 CICRA delegates, Falk Foundation International IBD Symposium held in London |   |
| Vitaflo UK | Designated Grant paid to CICRA in connection with of Nutritional App/IT Social Research Meeting, Birmingham July 2013 | £1500 |
Calendar Year 2012
| | | |
| --- | --- | --- |
| MSD UK | Unrestricted Corporate Sponsorship paid to CICRA | £2000 |
| Abbott UK | Unrestricted Grant paid to CICRA | £5000 |
| MSD UK | Restricted Grant paid to CICRA (For development of a CICRA Survey in Year 2013) | £5000 |