I've always found it pretty hard to talk about myself, as a person I've always seen my life as exceptionally normal. However in more recent years I have begun to recognise that:
I was born in East London to a middle class family where I spent my early years of childhood with my older sister. Shortly after my little sister was born we moved to the other side of London where I would spend the remainder of my 18 years as a child. I always enjoyed life in the metropolis of London with frequent visits to the museums in South Kensington. All this probably seems very average to anyone else born in similar circumstances to me, life begun to differentiate me at 7 when I was first diagnosed with IBD, more specifically Ulcerative Colitis (UC). I also developed a lactose intolerance turning birthday parties into affairs of carrot sticks and cocktail sausages more than cake and ice cream. In many ways, while it did make some aspects of life more difficult, looking back now I am glad I was diagnosed so early in my life (often IBD doesn't develop until mid to late teens) as it allowed me to have one change at a time – first UC and then puberty.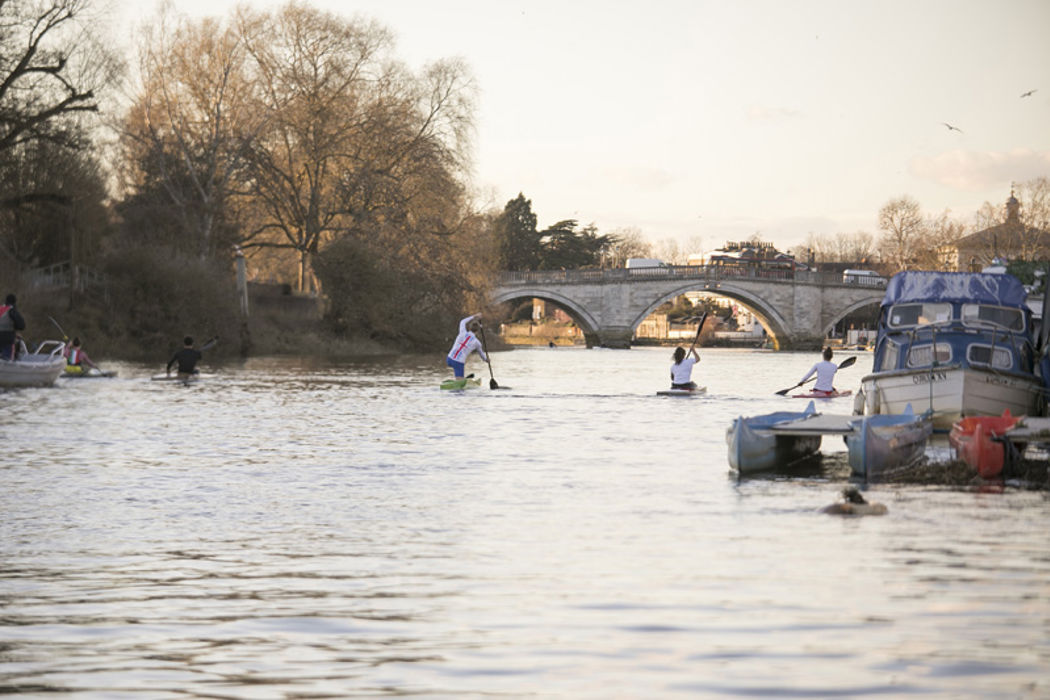 Entering my teenage years I was generally well, my UC was largely under control and I ended up falling into the world of sport. I had never particularly enjoyed typical team sports, as an extreme perfectionist I couldn't handle the idea of other people's mistakes costing me. With the river Thames so nearby me and my dad went down to Richmond Canoe Club for a taster session of canoeing. We were immediately swept up by the resident canoe coach and put in a large, extremely stable, Canadian canoe. I immediately loved it, partly because when anything went wrong I could instantly blame on my dad but mostly because there was a sense of freedom being on the river that I had never felt anywhere else. I felt at home on (and occasionally in) the water. After just a few weeks in a boat and still with my Dad (much to my embarrassment) and I started racing with a winter series at Wey Kayak Club. Over much of the winter when it was cold and dark we would go running and do gym, something I would never have considered at that age if it hadn't been for canoeing, but I instantly enjoyed that aspect almost as much as the paddling itself.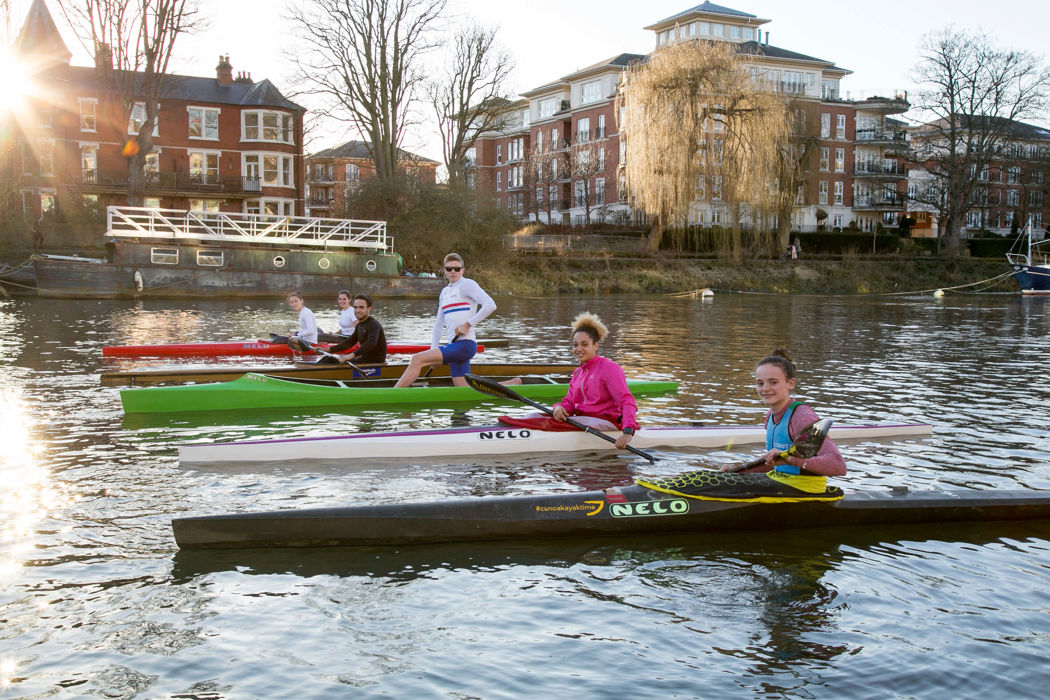 Quickly I became hooked on paddling and progressed beyond sharing a boat with my dad to 'high kneeling' skinny sprint canoeing. This felt like being taken out of a Mini Cooper and being thrown into a Formula 1 car, inevitably it was going to go wrong for a while. For a period over the summer I seemed to spend more time swimming then paddling courtesy of my balance but eventually I cracked it and the real training started. I discovered a new side to me where my perfectionism became a steely determination to get faster and faster.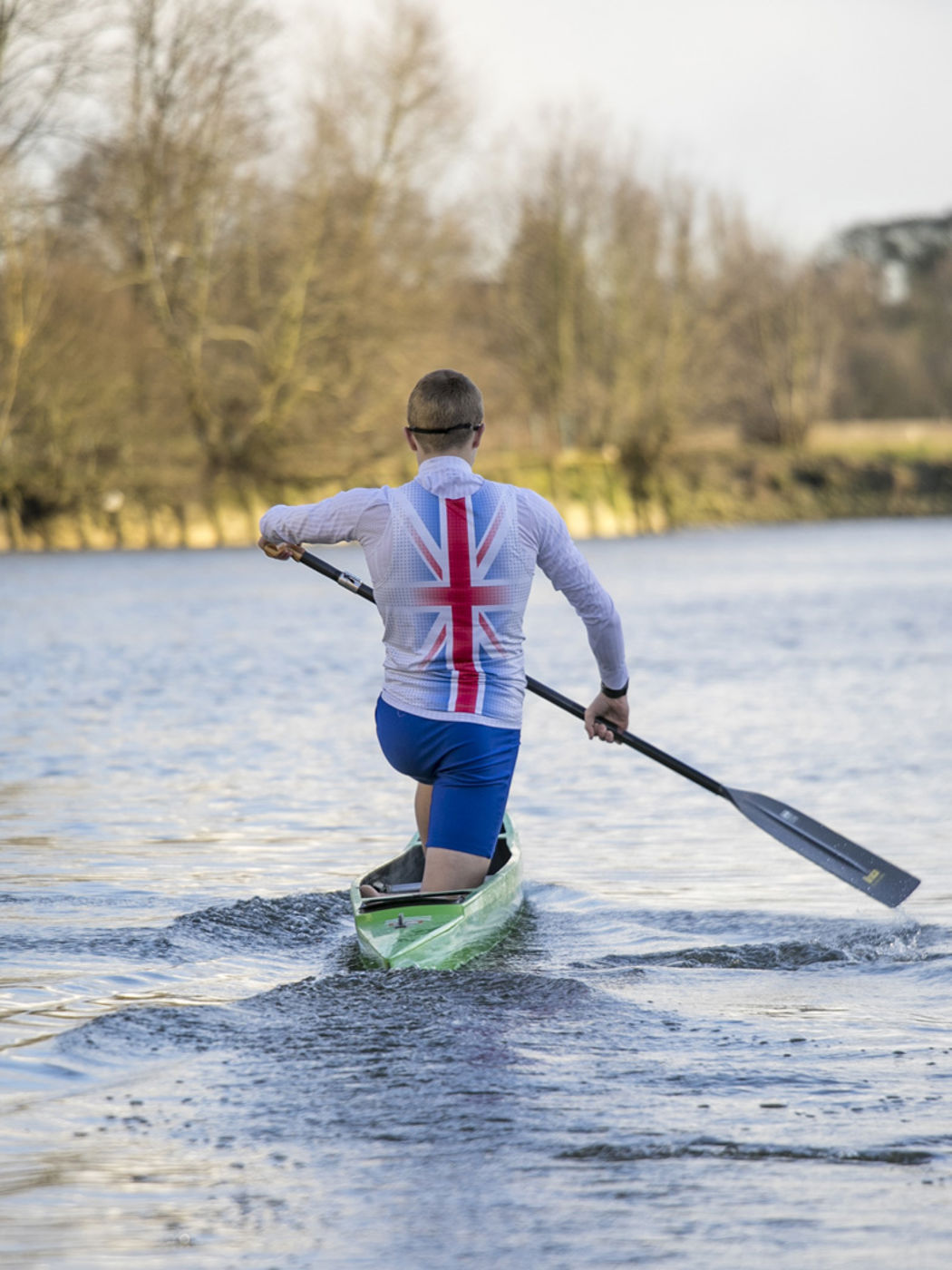 At this point I began making progress in paddling, I attended my first national regatta at Nottingham and started to become a force to be reckoned with in our training group. Just as things appeared to be going well I was knocked back down as my UC reared its ugly head again. I had been in remission for a few years and it came back with vengeance. Over the Easter of 2014 I was admitted to hospital 3 times and spent a total of about a month on Jupiter ward at Chelsea and Westminster. This understandably put a temporary stop to my paddling, while in hospital I got a photo of my brand new boat that had been delivered.
I distracted myself by redesigning and 3D modelling the Canoe Club; I'm sure you can tell by now, I had gotten to the point where canoeing was more than a hobby, or something to keep me occupied after school, it had become a life consuming addiction, for want of a better word. I was lucky, as many are to have been treated by amazing staff but couldn't help my unquenchable urge to be let out. I felt like hospital was dragging me down, my way of staying positive was to make sure I would make the most of the days where I was feeling a little better. The occasional walks along the riverside, or ensuring I kept up with school work provided a welcome distraction from the often grim reality of hospital life.
Once I was discharged for the last time I was quickly back at the canoe club trying out my brand new boat. This was the hardest paddle I have ever done, I felt more wobbly and weak then I had ever done before and to make it worse a armada of motor boats and waves seemed insistent on giving me a baptism of fire for my return to the water. The biggest obstacle to me getting back in a boat after this was my own willingness to do so. At this point I was still having intravenous drugs and could only paddle on the two days a week when my cannula was removed, this was yet another impediment to my paddling.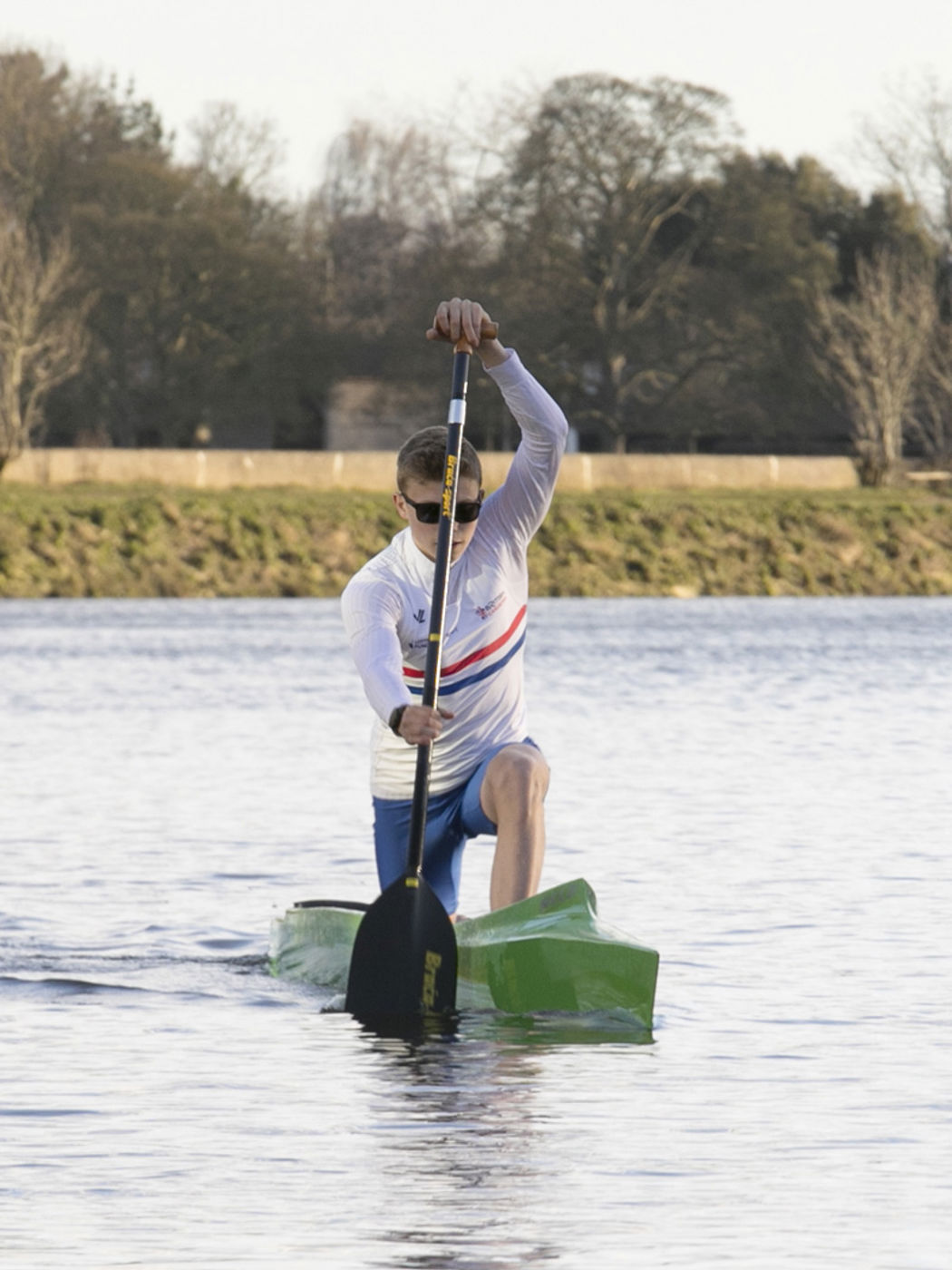 By September that year I was back in Nottingham racing at my second national regatta, this was also when my horizons were boarded beyond English soil as two of the slightly older boys at the club were selected to paddle for GB at the Olympic Hopes Regatta in Slovakia. This was a new challenge for me to dig my teeth into. With my UC gradually coming back under control I settled in for a winter of hard, painful training. This seemed easier than before as, at least this pain came with a feeling of progress and development compared to the pain I had felt earlier that year which was tearing my body apart. This made me reclaim my strength and allowed me to work hard for the following summer, this included a trip to Hungary for a week's training camp. While this may not be most people's idea of holiday it was my idea of heaven with training twice a day.
Another year came and went with me slowly giving more and more of my life to the sport. in 2016 I began 'morning training' at 6 (ish thanks to Adrian's lateness). I simply couldn't get enough of canoeing, it gave me a social life with friends who shared the same passion for padding as me, as well as keeping me fit and healthy. Despite all this, 2016 was my first experience of the cruelness of sport, I blew my first chance to get selected to the GB team. I simply wasn't fast enough, but telling a 16 year old that he just isn't good enough normally ends in tears. For me it was a wobble but I returned to Hungary that year and decided that instead of accept it I would work my hardest to show that I had deserved it.
That summer has stuck with me as some of my best paddling, I'd go on to get faster and faster but I don't think I have ever made so much progress in such a short period of time. Even my GCSE results seemed to matter less than they should have.
Starting A Levels at a new school represented a massive change in my life and I found that having a constant and continued interest and hobby throughout this helped massively with the transition. Then, in April 2017 my work and determination finally seemed to start paying off. I was selected to represent GB at Piestany International Regatta in Slovakia, pulling on a British racing vest of the first time, looking down at the flag and racing was a massive privilege and represented the start of a new chapter in my paddling career. Later that year I got my second selection this time for the Olympic Hopes Regatta in the Czech Republic.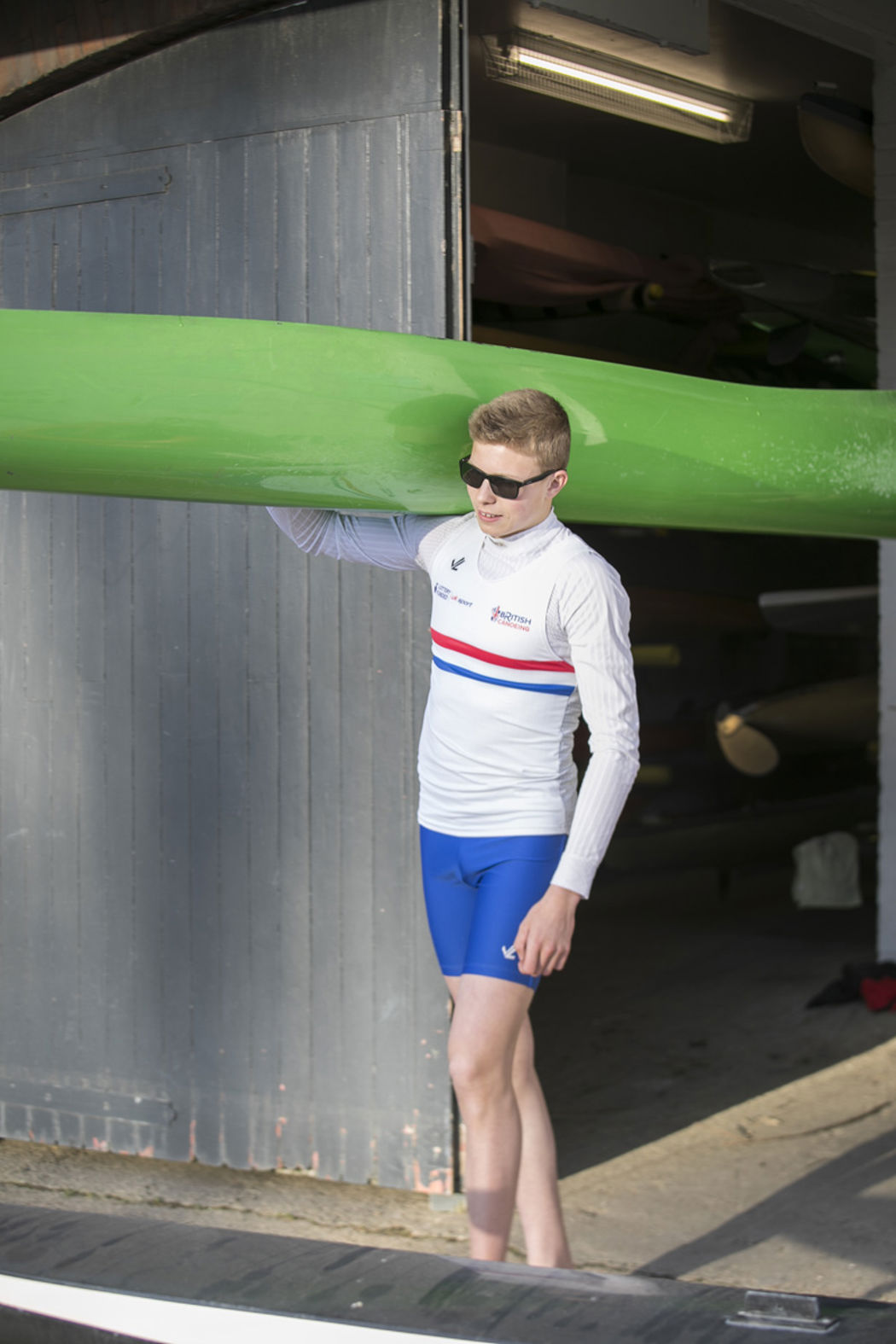 A Levels are a balancing act for everyone, it's always a compromise between enjoying what little is left of your childhood and trying to set yourself up for a long and exciting future. Add in training 14 times a week and UC and you get to me. Finding that balance seemed to come pretty naturally to me, and this put me in a really good place for my final year of school. That said it came around far quicker then I was expecting, this year would prove to be my greatest test. I was warned at the beginning by teachers, friends and Doctors that it might all get too much. The canoeing and school would be so conflicting and stressful that I couldn't possibly make it through the year achieving everything I wanted to, just to add to the fun my Dr told me that I would almost certainly have a flare near my exam period, not exactly what I needed. Like every good patient I completely disregarded all this insisting that I was different, I knew what it was that I wanted and I would stop at nothing to get there. That said I also decided that my future was more important then the present and decided that if there was one focus for the year it would be achieving top grades in my exams. I kept at the training through the winter and did the grunt work just as I had the previous year and also doubled down on my efforts at school to keep my teachers happy and maintain my grades. I had been warned at the beginning of the year that the stress surrounding A Levels could cause my UC to flare back up. In many ways I now found that canoeing was now my escape from the stress, not a cause of it. I revisited why, after my first time paddling, I had kept coming back.
Before I knew it I was selected to represent Great Britain at the European Championships for sprint and marathon (euros) later in the year. This was one of my main targets for the year and gave me a massive motivation boost heading into my exams. I did cut out a lot of my canoeing over the course of my exams but I also made sure that I kept paddling as my way to get away from the stress and occasional panic associated with any exams.
After my last exam I was almost immediately on a flight out to Italy for the Sprint Euros. This was my first major international and I almost immediately felt out of my depth, the nerves that I had put on the back burner through my exams all came flooding back and completely overwhelmed me. Just my luck that at my first major international I felt completely useless. This reflected on my race and I never got myself moving properly. I came in last in the heat, not even making it over the first hurdle. After my race I felt terrible, made worse by the fact I had to race at Marathon Euros just one week later. Looking back now I realise how far I had come since the small lanky 12 year old first stepped in a boat almost 6 years earlier. If he knew that he'd be 17th in Europe then I don't think he'd be too disappointed.
Quickly I realised that to avoid another humiliation the next week I would have to accept how I'd done and get past it. I turned it around as I had the year before, making my disappointment drive me forward and act as motivation for the future. With the support of so many who had faith in me and by moving past my disappointment I managed to come back the next week, this time in Croatia and come 5th at Marathon Euros. Many of the things I did to stay positive that week were the same little things that had got me through my time in hospital.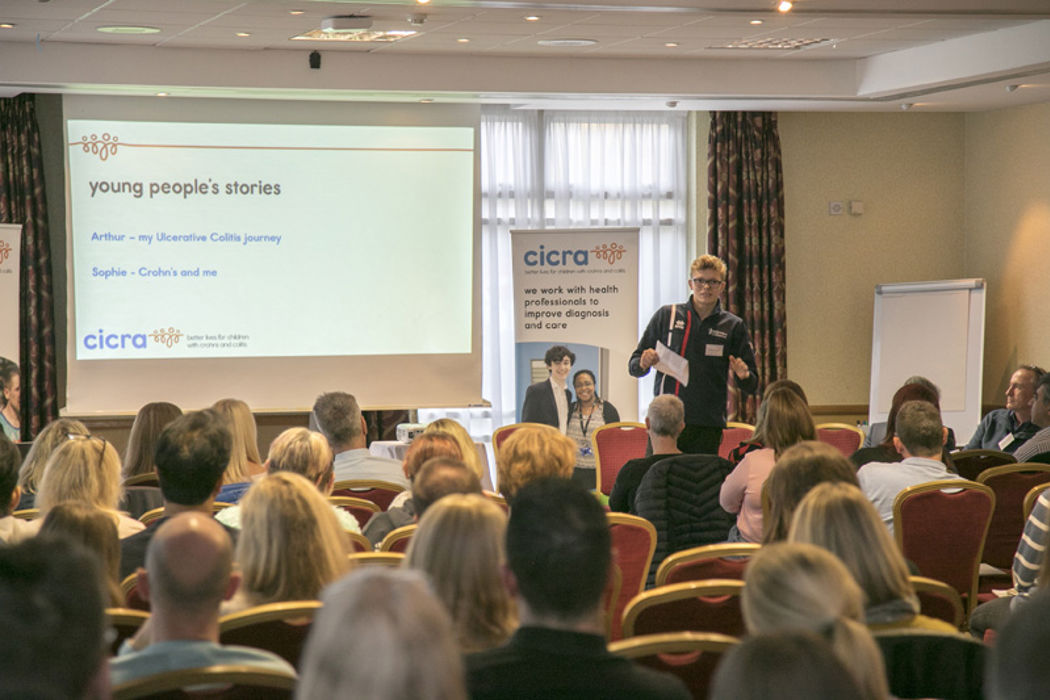 share your story
Telling your story can be really helpful for others, and give useful insights to everyone about what living with inflammatory bowel disease (IBD) is really like for children and young people, and their families.
share your story