push yourself further
12 great events in 2020
Are you a regular walker and new to endurance events? Perhaps a seasoned trekker looking for testing adventures? Or even a marathon runner wanting to 'up' your distance?
Whether it's along magnificent coastal scenery, or in stunning open countryside, there's an Ultra Challenge for you.
Walk, Jog or Run at YOUR pace on the Ultra Challenge Series event of your choice. Join 25,000 others of all ages & experience in 2020 for an unforgettable Challenge. It will be rewarding, fun, and absolutely achievable with your resolve and determination alongside first class support.
Push yourself further - 100km Full Challenge, with Half (50km) & Quarter (25km) options also available.
choose your challenge
Easter 50 Challenge 11 April 2020
Easter surprises...
Isle of Wight Challenge 2/3 May 2020
Around the coastal path...
Jurassic Coast Challenge 16/17 May 2020
The UK's best coastline...
London 2 Brighton Challenge 23/24 May 2020
Iconic route from Capital to Coast...
Lake District Challenge 13/14 June 2020
England's finest & most scenic countryside...
Cotswold Way Challenge 27/28 June 2020
Tough rolling hills & stunning viewpoints...
Peak District Challenge 4/5 July 2020
A looped route to & from the basecamp in Bakewell...
South West Coast 2 Coast Challenge 25/26 July 2020
Cross England's South West Peninsula...
South Coast Challenge 29/30 August 2020
Seven Sisters & South Downs...
Thames Path Challenge 12/13 Sept 2020
Take on the historic towpath...
PLUS – Thames Bridges Trek 25km
Chiltern 50 26 Sept 2020
Festival style season-finisher...
You'll get full support and hospitality all the way, leaving you to focus on your challenge!
Walk it, Jog it, or Run it
Join as Individual or Team
100km Challenge
Half (50km) or 1/4 (25km) Challenge options
Rest stops - free food & drink
ALL meals / food included!
Medics, massage, and pace walkers
Medal, T shirt, glass of bubbly!
Walk at Your Pace - 24 hours+
Run or Jog - set a New Goal!
2 Day Full 'Daylight' option
Camping options available
Pre-event training support + app
It's your challenge - your way!
choose your fundraising option
Charity Sponsorship – pay a small registration fee and do lots of fundraising!
Full Challenge - £15 reg fee + £595 in fundraising
Half Challenge - £10 reg fee + £395 in fundraising
Quarter Challenge - £5 reg fee + £245 in fundraising
Mixed Funding – pay a higher contribution to the cost of your place and fundraise to a lower target .
Full Challenge - £99 reg fee + £299 in fundraising
Half Challenge - £64.50 reg fee + £199 in fundraising
Quarter Challenge - £39.50 reg fee + £119 in fundraising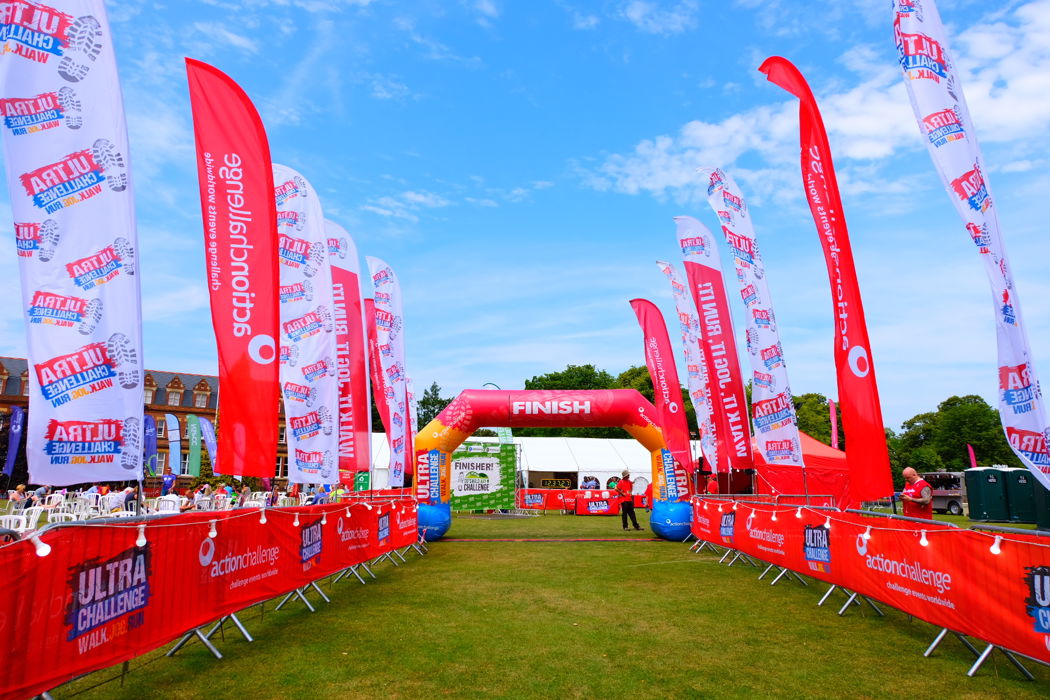 We can provide you with a sponsorship form, CICRA t-shirt and fundraising advice. Email us on fundraising@cicra.org
You can also download:
It's a great way to raise awareness, too!
read the Ultra Challenge series brochure
Read about all 12 events and decide which one you will challenge yourself to do, to raise vital funds for children with Crohn's and colitis
Ultra Challenge 2020 brochure