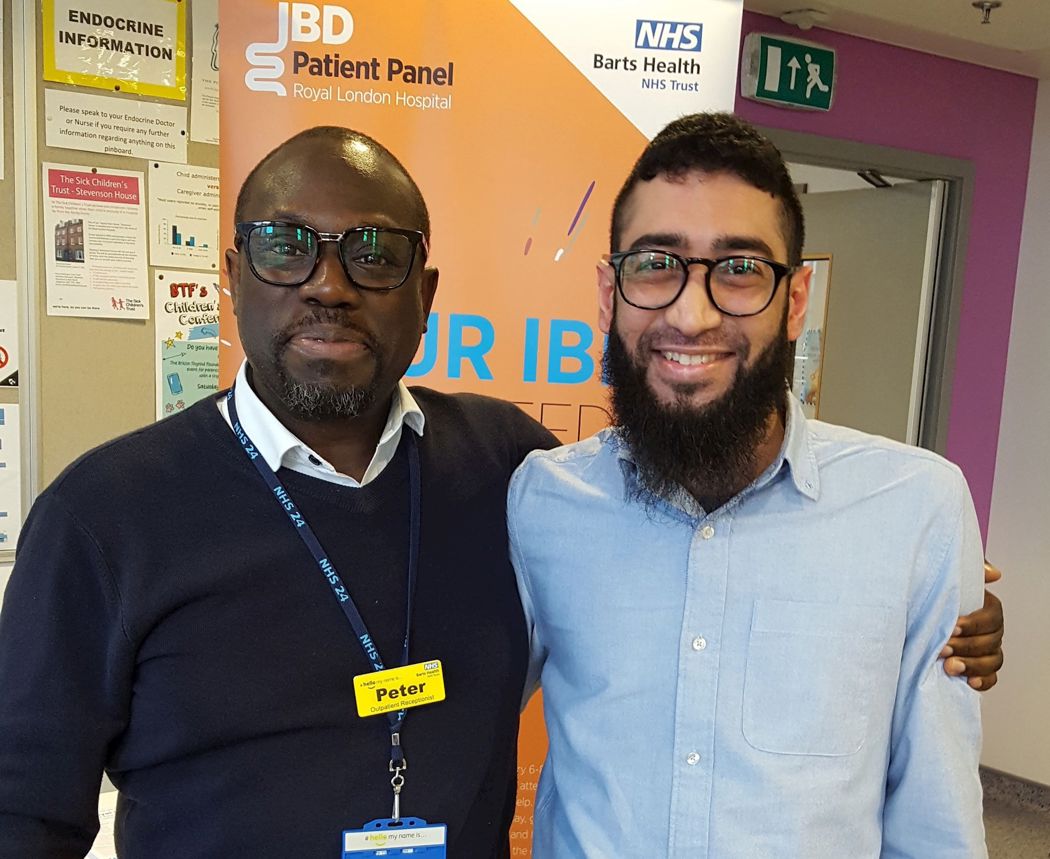 I'm on the right in blue shirt. On the left is the Paediatric Outpatients receptionist, Peter, who has bought smiles and happiness to the faces of thousands of young IBD children at Barts Health since before I was born!
about me
Hi, I'm Haroon.
I was diagnosed with IBD when I was 4 years old, and I've had it for 22 years! It has been a very big part of my life and I hope by sharing my experiences growing up with it, it will help make it a bit easier for you to deal with.
Currently, I'm volunteering at my hospital (Royal London Hospital) while recovering from surgery. I help with the IBD stand, give advice and tips to the paediatric IBD patients, and provide support for the parents. I really enjoy helping the younger patients with my own experiences of the disease, and I'm hoping to do this on a regular basis.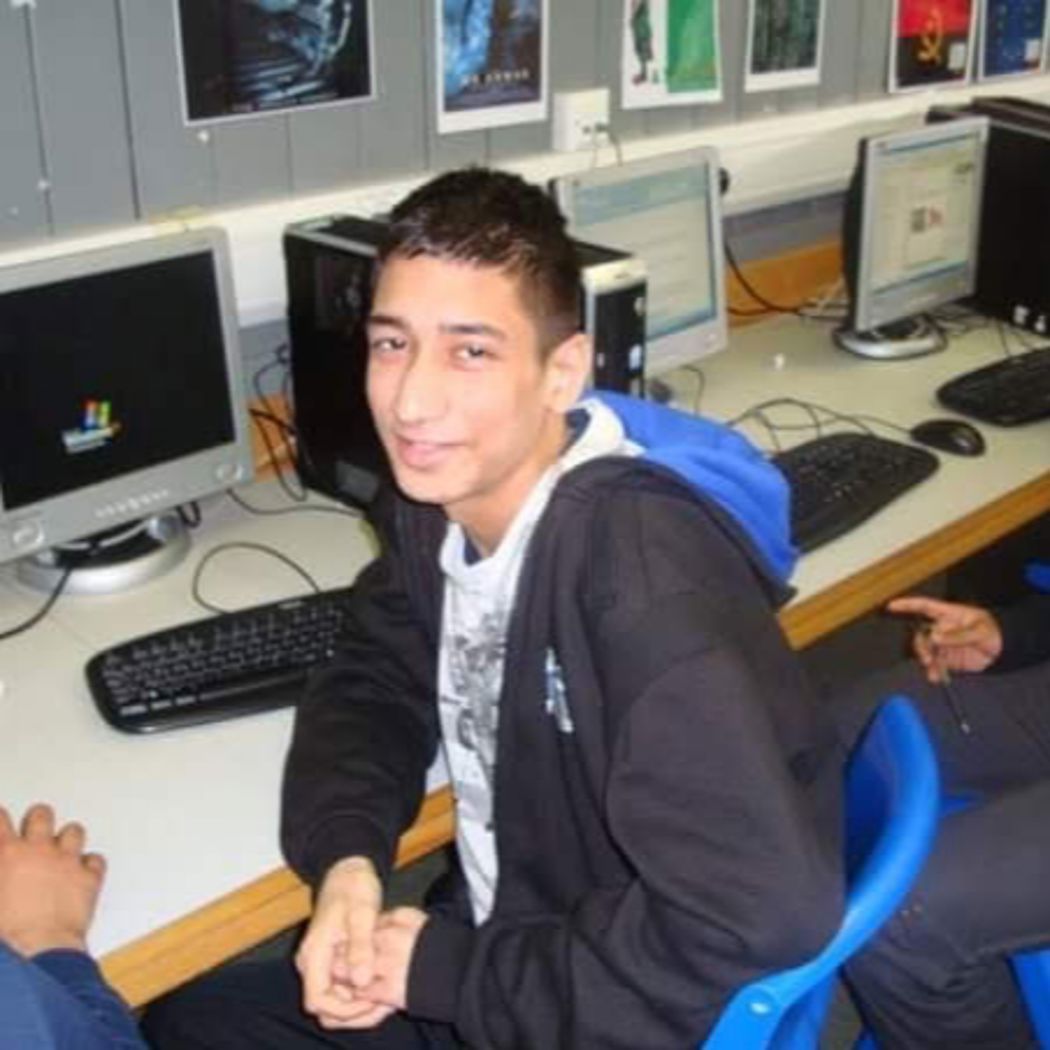 The main problems I faced in school included:
needing to regularly rush out of the classroom to the toilets
that embarrassing feeling of getting up in front of everyone while the teacher is talking to the class
being unable to concentrate in class because of discomfort
having accidents in school
feeling extremely tired and drained of energy and still needing to do homework
not eating any food at lunchtime as I would end up needing the toilet halfway
missing a lot of school work
missing the social aspect of school
You might relate to some of these problems or face different problems, or none at all. A few things that I found helpful included:
Strategically sitting near the door in most of my classrooms so it was easier to quietly slip out when I needed to use the toilet. In assemblies I would sit at the end of the rows at the back. It just made it a little more discreet to leave and come back inside.
It was really helpful to explain to all my teachers that I suffered with a condition that makes me rush to the toilet urgently. I genuinely found the Can't Wait Card that's supplied free from CICRA to be extremely useful in this particular situation. In high school you will have a different teacher for every subject, so it's important you explain to each one of them about your needs. This will allow you to also secure that seat close to the door. Ask your form teacher to also keep you updated on any important info that is circulated when you are absent.
I always kept a spare toilet kit with me at all times in case of emergencies. A kit should include, toilet roll, wet wipes, spare underwear, spare trousers, and a carrier bag (to put any dirty clothes in). Get a RADAR key that will open up some locked disabled toilets and a Can't Wait Card.
When you start feeling the need to use the toilet, leave early! Allow yourself plenty of time to reach the toilet, especially if they are located far away. This will help prevent accidents. Unfortunately sometimes the early warning system does fail and "stuff happens"! Remember it's part and parcel of the disease, it happens to everyone so don't be disheartened.
Make an appointment with the head  teacher to explain your IBD, being open and honest about your difficulties holding it in. In my school, we only had toilets outside on the ground floor which were difficult to get to when on the higher floors (and they were kept locked!). So I asked the head teacher for permission to also have use of the staff toilets which were located around the school. These are usually keypad locked so be sure to obtain the codes. If you ever have any issues with anything, you can ask Laura, (who is CICRA's Family Support Worker) to talk to your school on your behalf if you prefer.
Use the Disabled Toilets! I found these are usually clean, vacant and much more private, which is a highly desirable setting when doing a long poop. They are not only for wheelchair users as is often mistaken, they are for ANYONE who needs them. And suffering with IBD, you certainly need them. If they are locked (which they should not be) be sure you obtain a key for this from the head teacher. Make use of all the toilets in the school.
If meal times are stressful for you you could try eat your food in a classroom rather than the hall. In my school there was always a group of students who did this for various reasons. I wish had thought about it too instead of skipping meals.
If your school has lockers, request one. You can leave your heavy text books in there until you need them for that lesson rather than lug them around all day which would really make you extra tired. I didn't have lockers so I asked my teachers if I could have 2 copies of the text books, one to keep at home and one that I could permanently leave in their classroom somewhere.
Don't stress about school. I know this is easier said than done. But take it from me, grades really aren't everything. Your health always comes first. If your body is telling you it needs a rest, then take a break and don't force it, even if that means falling behind. Try learning bits yourself at home when you feel up to it, you'll find that you'll probably have understood it better than the school teaches.
any more advice? what would you do differently?
I think the biggest mistake I made in school (and life) was that I was very secretive about my disease. I didn't want to talk about it, or see myself as someone who suffers from it like everyone else. In hindsight I could've definitely have used the help and support of other people who were going through the same struggles as me. Luckily these days you have countless amazing support groups so easily accessible on social media, join one!
If I could go back, I would definitely discuss my IBD openly with everyone. People will not know how IBD is affecting you and what help you need until you explain it to them, especially as it's a hidden disease.
The best advice I can give is to take an interest and learn about the disease that affects you, what inflammatory bowel disease actually is, what's the role of the small / large intestine, where in the body is the inflammation and why do you get diarrhoea etc. This will give you a sense of control knowing about your own illness, and help you be more involved in your own treatment. It will also help you explain IBD to other people.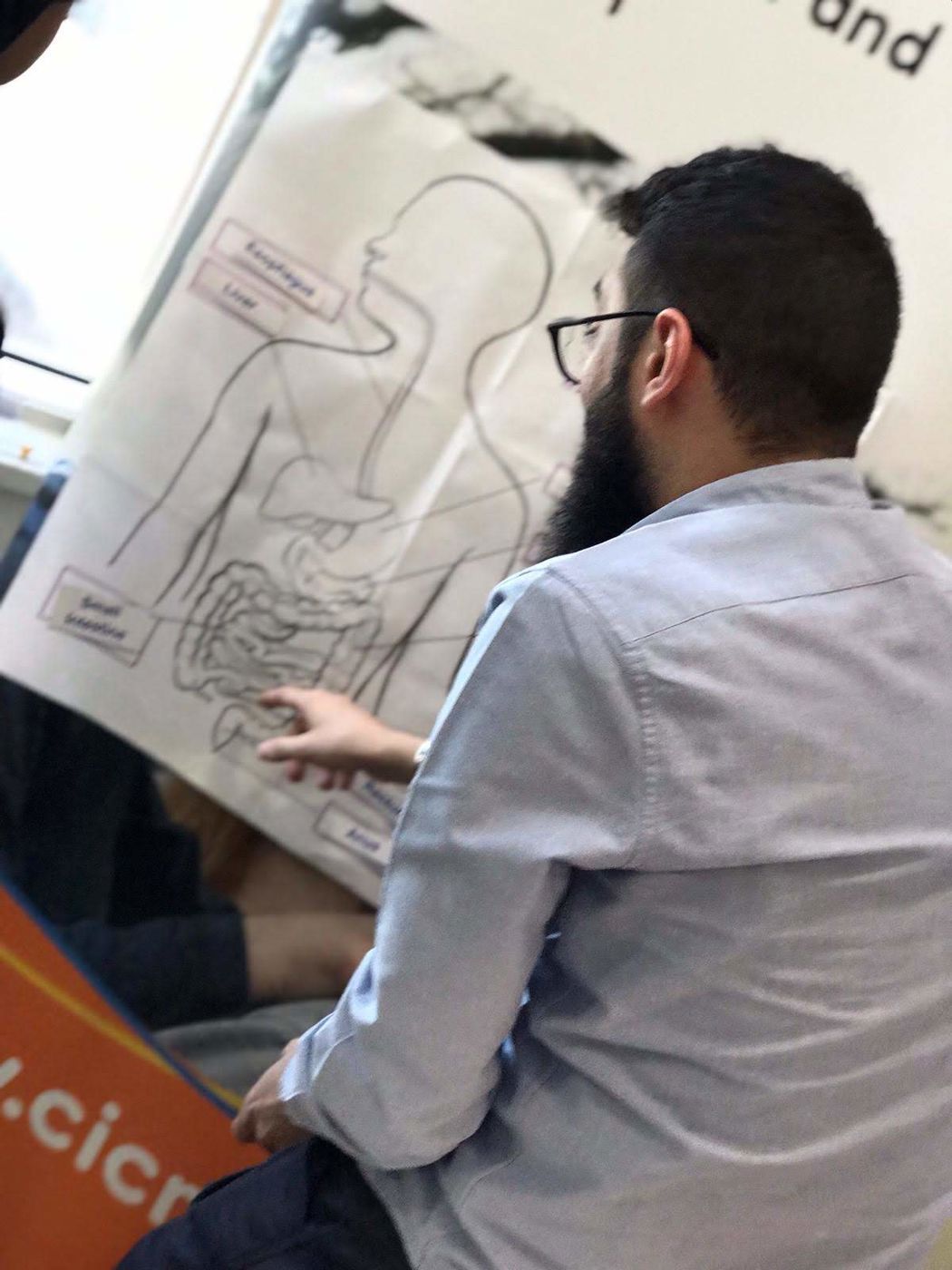 Be open about talking about POOP! It's natural and everyone does it. As a boy, poop is a popular topic to discuss amongst friends anyway. Be confident about talking about the disease and take any poop jokes in your stride. I actually found myself to be one sharing funny poop memes with everyone. You are going to live with this disease for the rest of your life so be comfortable with it.
Be proud of the things you have achieved and don't ever compare your achievements with anyone else, not even with other IBD patients. Everyone's disease affects them in their own different way. There were times when I was housebound for months at a time and even leaving the house for a short walk outside was a big achievement for me to accomplish. IBD doesn't stop you, but never think just because someone with IBD is able to run a marathon that you should be able to do this too.
any regrets?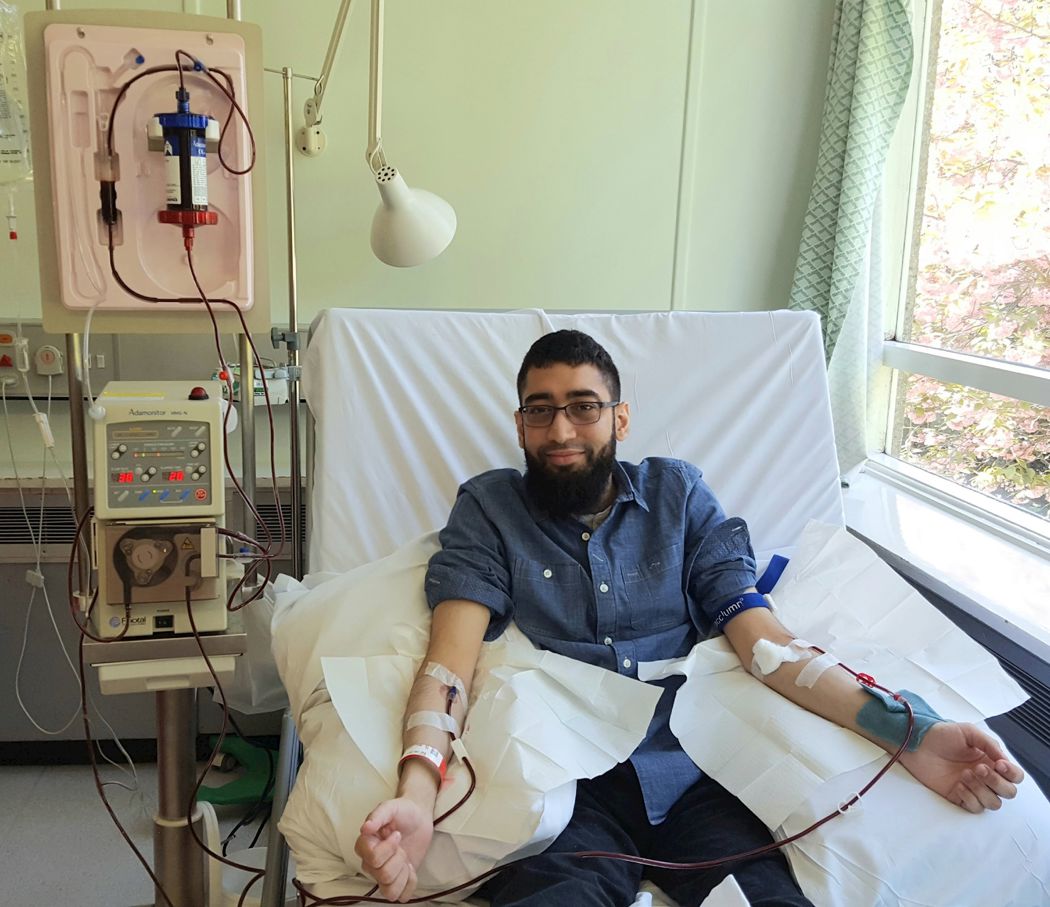 It's given us abilities that no one else has, skills that are unique to us. I can say with certainty that we've all been in some sort of tricky situations where we've improvised with whatever was around us and ended up even impressing ourselves.
You are resilient and are able to endure more than 'normal' people. You're part of a special club. It's a journey you take, but know that you are not alone! There's a big community so try to get involved, it will make it much easier to deal with.
Feel free to send me funny poop memes any time! One day in the future you will also be writing a guide like this for the future IBD younglings.
Haroon
find me on twitter: @haaroonHH
help young people like Haroon by donating now
Your support means we can do more research to understand the causes of IBD and find better treatments to help young people like Haroon, and provide support to help them with school.
You can make the difference for young people with Crohn's, colitis and IBD.
donate
share your story
Telling your story can be really helpful for others, and give useful insights to everyone about what living with inflammatory bowel disease (IBD) is really like for children and young people, and their families.
add your voice